One of the best radar products to use in RadarScope to identify where snow is falling is the Precipitation Depiction product. Precipitation Depiction is a proprietary DTN product combining super-res reflectivity data and surface observations to show a depiction of the current hydrometeor type. Rain is displayed using a somewhat traditional color palette for reflectivity, snow displayed in shades of blue, and wintery mix is displayed in shades of red. It's important to note the determination of rain, mix, or snow is an approximation based on multiple data sources, so it is subject to some error. We will walk through a few examples, to help you utilize the Precipitation Depiction layer.
Let's compare reflectivity for echoes that are all snow and all rain. Here are images of snow in South Dakota (left column) and rain near Memphis (right column). A snow echo will typically have a fuzzy or grainy appearance on a reflectivity image. Also, note the significantly higher reflectivity values for the rain than for the snow. In the Precipitation Depiction images throughout this blog, green and yellow shades represent rain, and the blue shades represent snow.
Here is another example with only snow. Snow typically has reflectivity values between 5 and 20 dBZ but can be higher if it is melting. Notice again the grainy appearance of the snow in the reflectivity image?
Next is an image of reflectivity and precipitation depiction data from Billings, MT. Notice it shows higher values than the previous image, especially near Billings. At the time of this image, heavy snow was being observed at the Billings observing station.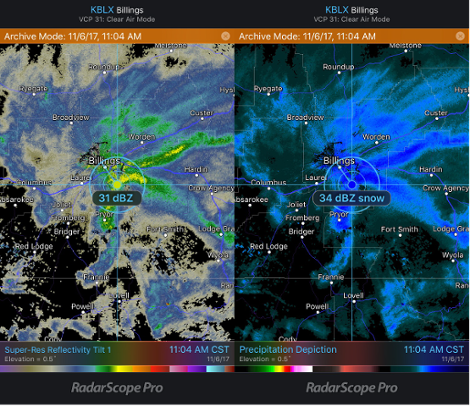 The final example is an image that has both rain and snow near Salt Lake City. Precipitation west of Salt Lake City was identified as rain by the Precipitation Depiction algorithm (which is consistent with observations from automated stations). Southeast of Salt Lake City, precipitation is being depicted as snow. The relatively high reflectivity values in the snow may indicate melting snow.